Now that is a nice modern rendering, but the material is nicely old... a fossil Walrus bone skull!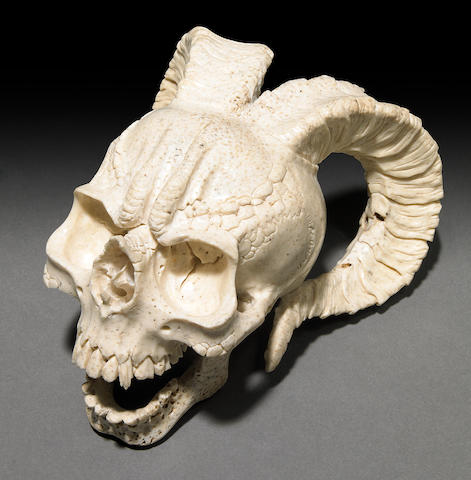 Saint Laurence Island, Alaska
Carved from the fossilized mandible (jawbone) of a juvenile prehistoric walrus dated at approximately 20,000 years, this extraordinary skull-form sculpture displays the superb artistry of a masterwork. Inspired by Pan, the ancient Greek god of nature, fertility and music, the meticulous detail invites the viewer to ever-closer inspection. Saint Laurence Island is one of the few localities where walrus fossils are found. Walruses are marine animals which live and die on the shores of polar seas, at sea and on the pack ice. Walrus fossils are sometimes associated with ancient Inuit settlements.
Measures 5 x 3 7/8 x 2 3/4in
Estimate is USD 5'000-6'500
As they only used the jawbone, was not so much material to carv that skull. Really skilled artwork.
How did such a Walrus skull look like?? Nothing easier than that, have seen one 3 years ago in New York.
Property from the George Lee Collection, Southern California
Juvenile Walrus Skull
Odobenus rosmarus rosmarus
20,000 years to recent
Alaska
A rare juvenile walrus skull. The genus name Odobenus, is from the Greek, meaning tooth walker - referring to the manner in which walruses pull themselves up onto the ice using their long tusks. Offered on a custom stand. From the George Lee collection of Southern California.
Specimen with stand measures 13 ⅜ x 9 x 12in, Skull measures 11 x 8 ½ x 9in
What a bargain: Sold for USD 1'830 incl. premium
Odobenus rosmarus rosmarus today look like this of course...
nice underwater shot