Das wird ein Work in Progress...
Unser Freund Melchior Berri hatte überall seine kreativen Fingerlein im Spiel, so auch an der Rittergasse 29, beim Umbau 1844/45 der ehemaligen Kapelle des Deutschritterordens... auf Englisch tönt das noch viel bombastischer: The Order Of The Teutonic Knights.
Der Deutsche Orden, auch Deutschherren- oder Deutschritterorden genannt, ist eine geistliche Ordensgemeinschaft. Der vollständige Name lautet Orden der Brüder vom Deutschen Haus Sankt Mariens in Jerusalem, lateinisch Ordo fratrum domus Sanctae Mariae Teutonicorum Ierosolimitanorum. Aus der lateinischen Kurzbezeichnung Ordo Teutonicus leitet sich das Ordenskürzel OT ab.
Und wieder etwas Englisch: The Order of Brothers of the German House of Saint Mary in Jerusalem (Official names: Latin: Ordo domus Sanctæ Mariæ Theutonicorum Hierosolymitanorum, German: Orden der Brüder vom Deutschen Haus St. Mariens in Jerusalem), commonly the Teutonic Order (Today: German Order = Deutscher Orden, also Deutschherrenorden or Deutschritterorden), is a German medieval military order, and in modern times a purely religious Catholic order. It was formed to aid Christians on their pilgrimages to the Holy Land and to establish hospitals. Its members have commonly been known as the Teutonic Knights, since they also served as a crusading military order in the Middle Ages. The military membership was always small, with volunteers and mercenaries augmenting the force as needed. After the Reformation, the Bailiwick of Utrecht of the Order became Protestant; this branch still consists of knights, but the modern Roman Catholic order consists of Roman Catholic priests, nuns, and associates.
So, jetzt muss ich nur noch meine Fötteli wieder finden.
Auch unser oller Tannhäuser war dabei, erkennbar am weissen Mantel (Codex Manesse)
Tjach:
Der Deutschritterorden war 1190 auf dem dritten Kreuzzug gegründet worden. Sein Zweck war es, Rittertum und Christentum miteinander zu verbinden. Doch der missionarische Eifer trat rasch in den Hintergrund – der Orden trachtete nach weltlicher Macht und Herrschaft. Nachdem Palästina verloren war, begann der Orden, seinen Einfluss in Europa durchzusetzen und unterstützte König Andreas von Ungarn im Kampf gegen die Angreifer aus der Walachei.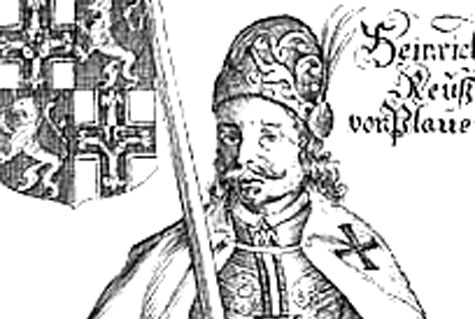 Der Deutschritterorden unter Heinrich von Salza gründete 1231 Thorn, 1232 Kulm, 1233 Marienwerder. 1236 siegten verbündete Truppen aus Deutschen, Polen und Schlesiern in der Nähe von Elbing über die Pomesianer – anschließend wurde die Haffküste erobert und Balga gegründet. Dann wurde Kurland, Livland und Estland von den Rittern mit dem schwarzen Kreuz und den weißen Mänteln erobert.
1310 erwarb der Orden das Herzogtum Pommerellen mit Danzig – 1402 erwarb der Orden die Neumark. Das Gebiet erstreckte sich nun bis zum Finnischen Meerbusen – das führte zu Spannungen mit den Polen.
Am 15. Juli 1410 wurde bei Tannenberg die größte Schlacht des Mittelalters zwischen der polnisch-litauischen Macht und dem Deutschritterorden geschlagen – das ganze Preußenland fiel an Polen. Mutlosigkeit und Gleichgültigkeit machten sich auf den Ordensburgen breit – nur einer glaubte noch, das Schicksal wenden zu können: Heinrich von Plauen, der Verteidiger der Marienburg.
Während Städte, Bischöfe und Ritter dem polnischen König huldigten, leistete die Besatzung der Marienburg hartnäckigen Widerstand und durchstand schicksalsschwere Stunden. Massenanstürme der Polen wechselten mit Ausfällen der Verteidiger – nach zwei Monaten vergeblicher Belagerung zog der Polenkönig unverrichteter Dinge ab und räumte das ganze westliche Gebiet der Weichsel.
Der jetzt zum Hochmeister gewählte Heinrich von Plauen ging gegen die Verräter vor – Landesverräter wurden hingerichtet. Die Kriegsbereitschaft wurde erhöht; Heinrich von Plauen wollte verlorenes Land zurückerobern. Den in sich zerfallenen Orden richtete er durch Vorbild und Strenge, einfachste Lebenshaltung und Opferbereitschaft wieder auf.
Tributzahlungen an die Polen wurden eingestellt; dieses Geld wurde für Söldner, Burgbefestigungen und Waffen verwendet. Kirchenkostbarkeiten wurden eingeschmolzen und verkauft. Landschaften und Städte mussten höhere Abgaben zahlen – Heinrich von Plauen wähnte sich bald am Ziel, die verlorenen Gebiete zurückerobern zu können. Aber die ewigen Bedenkenträger brachten ihn zu Fall:
Die eigenen Ordensbrüder enthoben ihn seines Amtes und setzten ihn in Gefangenschaft. 1429 starb er. Die Polen hielten ihr Siegesmahl in der Marienburg ab – die schwarz-weißen Ritter waren für immer dahin. 1466 brach der Orden zusammen – und Preußen war unter der Gewalt Polens.
Damit konnte man sich sicher ne Bratwurst kaufen...
hier das Siegel des Grossmeisters