Ob die bei Bonhams so billig bleibt?
Lot No: 418
Liberty & Co.
a Pewter and Enamel Mantel Clock, circa 1905
with enamel dial and foliate decoration casting to case, together with winding key
18cm high, stamped marks 'English Pewter, Made by Liberty & Co. 01156', clock mechanism stamped 'LENZKIRCH'
Estimate: £700 - 1,000, € 830 - 1,200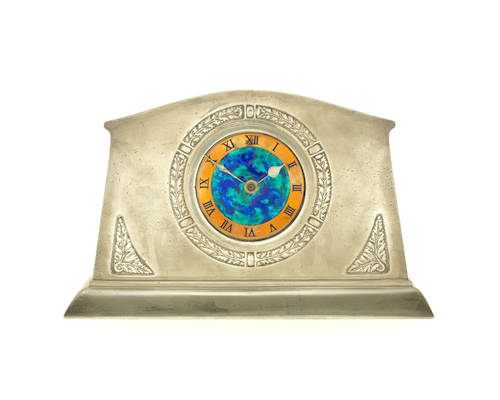 bei Von Zezschwitz ist die kürzlich gegangen... genauer gesagt am 14.10.2010
Archibald Knox, Isle of Man 1864-1933, Isle of Man, Tischuhr 1904,
Ausführung: Liberty & Co., London. Silber, Schauseite mit Knospe u. Blattrelief, in Blau- u. Grüntönen emailliertes Ziffernblatt. Rückwärtig scharnierte Tür, Uhrwerk aus Messing mit Handaufzug, bez.: MADE IN FRANCE. Unterseite bez.: 5071. Seitlich bez.: L & Co, schreitender Löwe, Stadtpunze für Birmingham, Jahrespunze 'e', CYMRIC. Türe innenseitig mit Punzen. H. 10 cm; 9,5 x 5 cm.
Geschätzt €6800-9600, Zuschlag 6400.
Literatur:
Stephen A. Martin, Archibald Knox, London 2001, S. 237, Abb. oben links, Cymric-Uhr 1903, Modell-Nr. 5075, sehr ähnlicher Zweigdekor; ebenda, S. 241, Cymric-Uhren Modell-Nrn. 0255 u. 5190, ähnliche Gehäuseformen; zum Dekor vgl.: Barbara Morris, Liberty Design 1874-1914, Weingarten 1991, S. 81.
Ich erliege gerade dem Trauma, dass eine schwangere Frau immer nur noch schwangere Frauen wahrnimmt... wie sonst würde ich plötzlich diese Liberty Uhren am Meter finden??
| | |
| --- | --- |
| Manufacturer | Liberty & Co. |
| Designer | Attributed to David Veasey |
| Description | Polished pewter clock with enamel & copper dial. The body of the clock is decorated with stylised seed pods. |
| Country of Manufacture | England |
| Date | c.1903 |
| Marks | Marked 0385 to base - see photo |
| Condition | Repaired split on the back right-hand-side by the hinge |
| Size | 20cms high |
| Other Information | |
| Price | |
Manufacturer

Liberty & Co.

Designer

Attributed Archibald Knox

Description

Silver Arts & Crafts clock with enamel on silver dial. Faux rivet decoration to front and sides with carriage clock handle to roof. The clock face with the legend 'FESTINE LENTE' which translates as 'make haste, slowly'

Country of Manufacture

England

Date

1903

Marks

Marks for Liberty & Co and 'Cymric'. Hallmarks for Birmingham 1903.

Condition

Perfect with the original movement which has been professionally cleaned and serviced

Size

14cms high, 8.3cms wide, 6.7cms deep

Other Information

Ref: Archibald Knox. Edited by Steve Martin
Preis auf Anfrage


Archibald Knox:
David Veasey for Libery... mega geil
| | |
| --- | --- |
| Manufacturer | Liberty & Co. |
| Designer | David Veasey |
| Description | Polished pewter clock from the Liberty 'Tudric' range with enamel & copper dial. The body with tree of life decoration to main panel |
| Country of Manufacture | England |
| Date | c.1920 |
| Marks | See photo |
| Condition | Perfect with original movement |
| Size | 19.5cms high |
| Other Information | The original clock movement has been fully cleaned and serviced |
| Price | |