Nun ja, diese Truppe macht Spass, ob früher oder heute im Revival... und ein Auto, dass vorne 2 Achsen hat, finde ich zumindest seit The League of the extraordinary Gentlemen oder so toll... hier die Spielzeugsversion
Lady Penelope´s Rolls Royce FAB 1 [Dinky Toys #100] GB 1966
Dinky Toy #100, produced from 1966 to 1975.
Created in 1965 by Derek Meddings for Gerry & Sylvia Anderson´s ITV famous science fiction series THUNDERBIRDS. The adventures of the Tracy family, Brains. Lady Penelope & Parker. 32 episodes, each during 48 minutes. And two cinema films: THUNDERBIRDS ARE GO (1966) & THUNDERBIRD 6 (1968). Gerry Anderson also created STINGRAY (1964). You can also find Dinky Vehicles from CAPTAIN SCARLET AND THE MYSTERONS (1967), JOE 90 (1968), SECRET SERVICE (1969), UFO (1970) and the base from SPACE: 1999 (1976).
Nearly all the filmed stuff is available on DVD.
PS: It´s a wrong "Emily", the only lack of this 60s toy.
With the holiday season around the corner, you want to bring something out-of-the-world for your little girl. She is sort of done with dollhouses and Cinderella dresses and if you want to bring in a dollop of luxe life in her wonderland, here is the pink colored child-size model of Lady Penelope's six wheeled Rolls Royce. At the first instance, you think this could be Paris Hilton's or Hannah Montana's sweet ride, but it is actually a luxurious piece of toy. The model here boasts of fine detailing and has been together using some of the best quality stuff in the world. Features here include adjustable seat, functioning wipers, spirit of ecstasy replica model and walnut dashboard.
The child size model here measures 27 inches in height, 8 feet 9 inches in length and 41 inches in diameter. We don't know how much it costs at the moment, but we'll soon fill in that information.
auf eeeebay für £63, oder USD 126, oder USD 20 etc...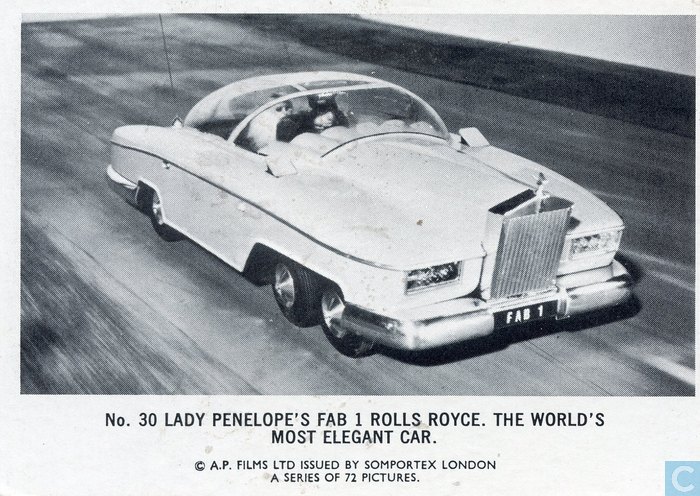 National Motor Museum Beaulieu New Forest Hampshire - Thunderbirds - Lady Penelopes car - FAB1
Thunderbirds is a 2004 science-fiction adventure film loosely based upon the 1960s television series of the same name, directed by Jonathan Frakes.
Lady Penelope Creighton-Ward is the London Agent for the secret organisation International Rescue in the hit television series Thunderbirds. The character was created and voiced by Sylvia Anderson in the original series, and portrayed on film by Sophia Myles.
Lady Penelope owns an iconic six-wheeled Rolls-Royce called FAB1 painted in her trademark tone of pink. FAB 1 has lots of features to assist Lady Penelope's work such as machine guns in the grill, bulletproof glass, water skis for travel on water and radar-assisted steering. FAB 1 is mostly driven by Parker