Beauty and Make-Up History
By the French Revolution of 1789 fashion changes developing since 1775 took effect. The new female hair fashion was to wear a wig of arranged curling coils on top of the head letting the natural hair fall loosely down the nape of the neck.
As the 18th century came to a close, all things Roman were in fashion with cropped simple hairstyles. This was soon replaced by a vogue for all styles Greek and the simplicity of freshly washed hair copied from Greek vases was thought attractive.
Women in the 19th century liked to be thought of as fragile ladies. They compared themselves to delicate flowers and emphasised their delicacy and femininity. They aimed always to look pale and interesting. Paleness could be induced by drinking vinegar and avoiding fresh air. Sometimes ladies discreetly used a little rouge on the cheeks, but make-up was frowned upon in general especially during the 1870s when social etiquette became more rigid.
Actresses however were allowed to use make up and famous beauties such as Sarah Bernhardt and Lillie Langtry famous beauties of the 1880s could be powdered. Most cosmetic products available were still either chemically dubious, or found in the kitchen amid food colourings, berries and beetroot.
A pale skin was a mark of gentility. It meant that a lady could afford to not work outdoors getting suntanned which was then considered vulgar and coarse. Continuous work in sun and harsh weather coarsened the skin then, as it does now. Parasols were de rigueur and used to protect the complexion. Rooms were shuttered with dark heavy velvet curtains to keep out the sun's rays. Some effort was made keep the décolleté neckline in good condition as it was often exposed in evening dress. Fine blue lines would be painted on the skin to increase the appearance of delicate translucent skin showing veins.
During this time it was thought that a woman's crowning glory was her hair. It was rarely cut, usually only in severe illness. It was also supplemented by false hair depending on the current fashion.
After 1886, Harriet Hubbard Ayer promoted face creams and various anti-ageing products. Before that, little that was satisfactory had been available.
It often surprises people to learn that it was the dowagers and matrons of Edwardian high society who were also the fashion leaders of Edwardian society.
Many an
Edwardian society hostess
in middle age was in urgent need of the help of cosmetics and by 1900 face enamelling was once again beginning to be accepted among society ladies. The Edwardian society hostess's complexion, ravaged by age, a high carbohydrate diet, spasmodic exercise, combined with living in a dirty polluted atmosphere was far from radiant. Queen Alexandra flaunted her make-up and shocked and amused observers. But she epitomized the feminine ideal of the Naughty Nineties. Ladies were more discreet and despite a gradual acceptance of make-up in the 1890s, it was still considered 'not nice' to admit to its use.
Ladies of society liked to preserve the myth of being naturally beautiful. A Mrs. Henning, who owned a beauty salon in South Molton Street, London, which later became the House of Cyclax, had a special back door for embarrassed clients. Heavily veiled, a lady would hurriedly alight from her carriage and disappear into the discreet entrance.
Initially Mrs. Henning sold creams plus three shades of rouge. Hostesses also used 'papier poudre' (still available from Avon and at some make up counters today). 'Papier poudre' came in books of colored paper and pressed against the cheeks or nose, the leaves of powder removed shine. Burnt matchsticks were used to darken eyelashes, and geranium and poppy petals stained the lips.
With such primitive cosmetics as these it was inevitable that those who could afford it would flock to Helena Rubenstein's salon when she opened in London.
'She did not have to wait for customers. They came veiled, and no lady carried money with her. But they were prepared to pay considerable sums.'
The sweet pea colour of the clothes was complemented by the lavender smells and until 1901 this was the only admissible perfume for hostesses. Lavender was associated with ladylike qualities. You can read more about perfume developments of the era in
Perfumes.
In her desire to appear natural many ladies had their hair waved. In 1908 Marcel of France introduced a new form of hair waving called the Marcel wave. At a stroke hairdressing techniques in Britain were revolutionized. This technique curled the hair with hot irons in a waved arrangement around the head. As well as Marcel waving, women also dyed their hair.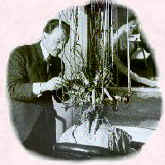 By 1906 Charles Nestle invented the permanent wave. An electric heat machine was attached to the hair pads protecting the head and curled the hair.
Right - Picture of Charles Nestle using his electric machine to produce a Nestle waved hairstyle.
Until the 1914 war, hair was always considered a woman's crowning glory. Society ladies dressed it with jewels, feathers, elaborate combs, or an aigrette which was a combination hair ornament made up of all these things.
By 1909
Selfridges
opened in London's Oxford Street and they openly sold cosmetics. Cosmetics displays were openly visible to the customers and were no longer hidden under the counter.
Then in 1910 Sergei Diaghilev's Russian ballet became influential in fashion. Influenced by the styles of the ballet,
Paul Poiret
created designs based on the ballet costumes and these took London by storm. This had a definite influence on make-up and clothes. Ladies began to favour more exotic brighter coloured clothes and this was reflected in more vivid make up. Tattooing became especially popular among society ladies and many a society hostess had lips, pink blushes and dark eyebrows permanently needled in.
In the 1920s make up began to be used again after many years of not being used. In addition
the inter war years
showed a great advance in the development of cosmetics. Elizabeth Arden developed cleansing and nourishing creams, tonics and lotions.
At the same time Helena Rubenstein was developing creams to protect the face from the sun. This was welcomed in an era when sun worshipping made fashionable by Coco Chanel, was becoming a craze. Later Rubenstein also began to manufacture face powders and lipsticks. Less makeup was worn in the
1920s than in the 1930s
, as youth demanded naturalness and slimming to obtain the boyish silhouette advised in magazines.
Lipstick grew redder throughout the 1930s changing colour every year. Lipstick was applied quite thickly. One daily paper commented that kissing had gone out of fashion due to the high cost of lipstick. But lipstick in the 1930s produced an undesirable stain and Oxblood a favourite colour may well have been the cause of such a remark.
Fingernails became scarlet and were grown to extreme length, whilst toenails were contrasted in pink nail enamel. On the cheeks and ear lobes rouge was worn. Eyebrows were plucked to a thinner line in the 1930s than the 1920s. Sometimes they were completely plucked to a thin pencil line substitute, some women even shaved them with disastrous end results as the brows never grew back. There was also a fashion for false eyelashes.

In the
1940s
make was kept to a minimum due to a shortage of constituents and the seeming frivolity of its use.
However hairstyles and the variety of looks they produced were very important. The influence of film stars helped make fashionable, styles such as the Veronica Lake style.
Left - Veronica Lake and her flowing tresses.
In the
1950s
colour films made an enormous impact on cosmetics. The huge cinema screens illuminated the unblemished appearance of stars and caused the make up artist Max Factor to invent an everyday version of the foundation he used called "Pan Cake". This was a makeup to gloss over skin imperfections. He also brought out a range of eye shadows and lipsticks. Later in the 50s titanium was added to tone down the brightness of products and this resulted in lips with a pale shimmering gleam. The idea was extended to create frosted nail varnishes of pink, silver and a host of other colours.



One unexpected facial accessory of 50s was
spectacles
. Frequently these were inlaid with diamante or scattered glitter dust. The exaggerated wings at the outer corners flared in the style of butterfly wings.
In the early 50s the ponytail was a popular youthful hairstyle and it matured into the French pleat. For the more sophisticated a permanent wave in the
styles
then favoured by Elizabeth Taylor and the young Queen Elizabeth II were universally worn.
Right -
Elizabeth Taylor who set trends in hair and make up looks.
As products such as hair lacquer sprays came into general use it was easily possible for ordinary women to create more and more complex hairstyles of height. By the late 50s outrageous backcombed bouffants, beehives, and French pleats led the way for the intricate coiled hairstyles of the
1960s.
In the late 50s the make up company Gala had introduced pale shimmering lipsticks with added titanium. Later Max Factor brought out a colour called Strawberry Meringue which was a pastel pearly pink. They really caught on in the sixties as young girls were frowned upon if they wore brazen red lips, so the softened pink and peach colours were acceptable initially to parents, but then became a trend.
Magazines taught step by step how to use recently introduced lip brushes and young girls began to blend and mix their own lip colours often having first blotted the lips out with Max Factor Pancake make up. Nail polish followed a similar trend with pastel pearl colours being the rage.
Eyes were a main focus and once the film Cleopatra was released showing Elizabeth Taylor with very emphasised eyes everyone learnt to apply eyeliner and socket lines. The models Jean Shrimpton and Twiggy (Leslie Hornby) along with the actress Julie Christie all with their lined eye sockets captured the look that said Sixties Chick with chic.


Quant brought out a range of great and affordable cosmetics in up to the minute formulations with innovative cheek contour shaders and highlighters.
She encouraged users to use make up brushes to apply eyeliner and blusher to achieve the hollow cheek, wide eyed look of the model Twiggy. It really was the best make up to use then if you wanted to get the look just so, as it contained information leaflets with diagrams of positions for the blush shading and highlighting which was all very new at the time to ordinary mortals.
Many of the items she designed bore the
Quant
daisy logo.
Vidal Sassoon
gave Quant a new equally fashionable haircut that defined one particular 60's look and spawned many variations.

A natural look was important in the mid and late seventies. Eyeliner and painted on eyelashes all became passé and softer looks were fashionable. In the early seventies eyes sometimes had white highlighter on the brow and sometimes soft coloured eye shadows were used around the eyes in a way that had been used for eyeliner. Pearlised liquid eyeshadows were a new innovation and a similar product was promoted in 2001. Very long eyelashes were still desirable. Loose powder went out of fashion and foundations worn alone gave a sheer effect. Lip liner was all the rage.
Right - Charlie's Angels with Flicked up hair styles.
The rough cut blonde flicked hairstyle was popularised by Farrah Fawcett Major (above) from the series 'Charlie's Angels'. Constant use of blow drying, tongs or heated rollers were required to make the hair flick. Other styles included Afro perms which only required washing and forking with a special lifting and separating comb.


Make up came back in fashion. I t was quite a natural lighter look, but in truth strong red lips which matched the many tomato red jackets which abounded were not very natural. Make up was quite defined to match power dressing, but the main feature was the emphasis put on skin care, anti ageing and beauty treatments or therapy. Skin cancer became talked about and a big issue was to tan or not to tan. Many people spent hours under sun beds. Fake tans were improved and bronzing gels and bronzing face powder beads were popular.
A favourite product of the era was Clarins' Beauty Flash instant facial pick me up.
Yves St Laurent launched his famous Touché Éclat which became a must in many women's handbag. New lighter face skin foundations seemed to be announced every month and the end of the decade saw some very good foundations emerge in the marketplace.
Companies like
Marks & Spencer
launched great skincare and make up ranges to suit the pockets of everyone. More importantly some of the items they sell can be easily bought from their internet site worldwide and delivered anywhere in the UK.
Staying power of lipsticks improved. In 2000 the Max Factor company launched the Lipfinity lipstick range which consisted of two products. The sticky lipstick is painted onto the lips and allowed to dry for 1 to 4 minutes depending on the amount used. Then the product is sealed with a special separate lip gloss. This wonderful product when correctly applied stays on the lips through normal eating and drinking and even light kissing and dentistry for up to 8 hours.
Only a really greasy cream cake, a heavy steak or oily sauce can dissolve it. But you must apply the gloss coating at least once for this to work well. To keep it looking fresh and glistening it just needs a retouch with the gloss through the day. Those tempted to reapply the colour without cleansing it off first will find that makes it bitty. If you need to change the colour in the day then carry some Neutrogena face wipes with you as they dissolve it well.
If fine lines around the mouth with lipstick runs are your problem this lipstick will transform your life. Be warned it does have a different texture to standard lipsticks and it does take about 3 or 4 days to get used to it. But you'll never see a smear on a cup again. My favourite colours in the original colours which would suit an ash blonde are 110, 120 and 140 in the red range, 40 and 46 in the pinks and, 50 and 80 in the mauve berry tones. All colours can be mixed on the lips when wet during application so it is possible to make your favourite colour. For more ideas go to
How to Assess A Fashion Look.
Lipfinity 2009 Review - I believe that in 2009 or at the end of 2008, Max Factor must have altered the numbers of some of the Lipfinity colours. Why - I have some older Lipfinity sticks in my bag that are same number, but appear to be different colour mix. Some stores like my local Boots have two types of Lipfinity on offer as they get rid of older stock. They have both types of stock at present which includes the old white case lip gloss sealer and the newer black cased lip sealer. I preferred the older white case. In a tumbled make up bag, it was easier to locate the white stick compared to the new black case as many products like mascara use black cases. The end labels used to denote the colour have also been moved to opposite ends of the colour stick. Since this label end is now touched much more the number wears off much faster about half way through product usage and confuses one trying to establish the number for a repeat buy. The repeat numbers are also so tiny you need a microscope!
But it still is a terrific lip colour system.
Since 2001 other manufacturers such as Clarins have launched long lasting lipsticks that really do have better staying power. The Clinique 'stay the day' one is a good, but slightly different alternative to Lipfinity. This is available in the UK now at £14 for a 12gm product, making it much the same price as other products, but with more product in the container.
In Autumn 2005 I tried Maybelline Superstay lipstick and it is every bit as good as Lipfinity. It has a similar format as the Lipfinity of a separate lipstick you paint on and a separate solid gloss sealant. I prefer this format to the long stay lip types that have the wet lipstick and wet gloss in one single case. The Superstay is slightly smaller at 2.6ml of lip colour, but it is also less expensive than Lipfinity by a few pounds too. The colour range is also pretty.
I have also found that you can mix Lipfinity colours with the Superstay colours and use either Stick Gloss Sealant and it still works. However you can't use the liquid gloss sealant from StaytheDay or Avon with either Max Factor Lipfinity or Maybelline Superstay.
New facial cleansers that washed off were popular in place of cleanse and tone separately.
By 2000 throw away cleanser wipes at low cost averaging 15p -20p a wipe were used by many. Some of the best include those by L'Oreal Plenitude, Nivea and Oil of Olay. These all remove both eye make up and lipstick properly, but gently unlike some of the less adequate products available which can be gentle, but less effective.
The Plenitude and Nivea ones are pre soaked in a dual purpose wet cleanser and toner so they are very swift and easy to use and quickly wipe away face make up. The Olay facial cleansers need to be wetted to release the impregnated product in the wipe and give a wet wash and exfoliation from the irregular surface of the disposable cloth. In truth with all wipes, one cleansing wipe is needed to remove about 90% of the make up and a second wipe to really remove every last trace of deposit.
In general hard traditional bar soaps lost popularity in the bathroom as they were replaced by moisturising bath and shower gels and liquid handwashes and cream cleansing bar products like Dove.
Aromatherapy products for face, body and hair took a huge percentage of the market by 2000 as self indulgent pampering became the norm. Decleor's Aromessence with neroli oil, Elemis milk bath, L'Occitane's pure soap products and Jo Malone's bath essences were typical of the feel good factor products used daily by many.
Consumers became very aware of skin cancer. Most people now know a victim of melanoma skin cancer. So fake tans and make up bronzing products were even further improved in the 90s, providing effects which were very natural.
The fake tan called St.Tropez usually salon applied was thought one of the best fake tans around. Competition from other great products included the wonderful natural looking low odour Decleor Auto Bronzant and Elemis self tans. Other good products giving great overnight results at home include Clarins Self Tanning Instant Gel, Lancôme Soleil Flash Bronzer, Sisley self tanning Gel and St.Tropez Tinted Self Tanning Lotion a D.I.Y version of the salon treatment.
All the products work best if the skin is first scrubbed free of loose dry skin with a skin exfoliant product, showered, dried and then creamed well with a body lotion. The fake tan is best applied with long strokes. Anyone who finds it difficult to apply to areas like feet/ankle bones/elbows where you can get unnatural excess product build up and an over coloured appearance, might find adding a little extra moisturiser to the tanning product makes for a smoother application.
Waxing or shaving of body hair should be done at least 24 hours before application of fake tans on grease free skin.
Pre tan accelerator treatments applied for about a fortnight before a holiday also became popular for those who still liked to sun worship. But by 2002/3 self tanning cubicles became more and more usual throughout the UK. It takes only 5 minutes to sprayed with fake tan by a therapist at St.Tropez Airport 1 and the bronzer used best suits blondes or olive toned skins. These spray treatments are a huge improvement and give a more even tan.
New rivals to St. Tropez include Au Courant also available as a spray treatment or a home DIY kit. Easy application is also possible today using Estee Lauder Sunless Towelettes at around £17. They are great for top ups and for eliminating strap marks in one quick wipe. Any mistakes that are hideous can be removed with St.Tropez's self tan remover at around £15.
Permanent body art such as tattoos and more adventurous body piercings are popular with adolescents and adults in their twenties and thirties. An article in 2001 in The Sunday Times suggested that if a female did not have a tattoo, she might well be of a certain generation and probably marked as over 50.
Tattooing is seen as a rite of passage in some circles. Once it was putting up the hair, then having ears pierced and then the audacity of other body piercings. Now the latter are so normal that individuals seek to establish personal identity by individual body markings. Nothing unusual about that in some parts of the world, but formerly frowned upon by a western society that now embraces tattoos.
When recent films with beach scenes were made the producers found it difficult to find nubile young teenage girls without tattoos on their shoulder lines, navels, thigh lines, backs or breasts. The girls were required as extras for a beach scene set in the 1950s and it seems that even the best make up does not give adequate coverage in film close-ups.
Skin jewellery was briefly popular because it was so simple to apply and so easy to remove. Skin jewellery takes the form of self adhesive crystals that can be arranged in patterns. The best of these are made by Swarovski Crystal Jewelry
and they can be bought from various outlets such as Marks and Spencer, QVC, beauty and jewellery departments. They are more readily available in the festive winter season. Crystals and fake gems are also added to nails today and the nail art produced is often a work of art.
All over the world body painting of children's faces is common, particularly at school functions and fairs. In the 1990s it became quite normal for men to paint the colours of their football teams in stripes or patterns on their faces or scalps. This followed the film Braveheart.
The first time we recall seeing this form of painting in the street beyond the tribal effect seen in anthropological films and that worn as media art by the model Verushcka, was in 1977. A small number of the huge crowds greeting H. R. H Queen Elizabeth II outside Buckingham Palace during her Jubilee used Union Jack colours in a flag arrangement, on their hair and faces. After the wedding of Prince Charles the fashion for face painting seemed set for festive occasions and the film Braveheart took it into the sports field.
For several years bindi or henna tattooing has been seen in the UK. Madonna adopted it as body decoration a few years ago and it became popular with many nationalities.
Now the latest trend is to have professional eyebrow shaping which lifts and contours the face providing a frame. It gives the instant effect of a mini face lift and involves waxing and plucking of the brow hairs for the smoothest outline. In the hands of skilled technician, the eastern method of threading is considered to be the most superior way of removing brow hair.