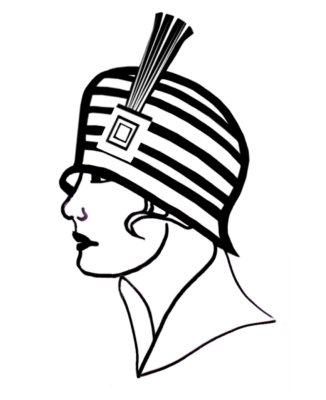 The wide brim and the high crown had been lost to almost a generation, however, in about 1934 milliners looked to Europe for inspiration. Hats in a much wider variety of styles than had been spied for well over a decade, were at last back in fashion.


Perky hats with an Austrian or Cossack feel had an outdoor sporty appeal. In 1935 high crowned hats were tilted at a jaunty angle and had a flirtatious quality. They were small and pert and were contrasted with wider sailor style hats. One of the most typical styles that captures the era is the 'Florentine' hat.
Designers vied to produce shock value hats and Schiaparelli made a range of surreal zany hats that included the lamb chop/cutlet hat, the shoe hat and fruit basket hats.

Schiaparelli also introduced a Victorian revival in the form of the modern snood in 1935. The snood became a mainstay method of keeping hair free from machinery in wartime Britain. Since the snood was crocheted it was also easy to copy and knitting and crochet and tatting patterns appeared in magazines everywhere.
Right - 1939 Snood
Meanwhile over in Hollywood Victorian themed films with lavish costumes like Gone with the Wind inspired a whole range of new hat styles for the 1930s.
Once the Second World War started hats became less practical as people had to rush to air raid shelters and they would literally drop everything. Barriers of etiquette became broken down and although hats were not rationed in order to boost morale their wearing decreased. Hats that were worn were generally practical and often homemade knitted warm hats, berets and hoods. Fast hats were formed as women tied headscarves into and instant hat. Designers produced various new styles, but many only became universally popular after the war finished.
Pictures of Hats & Hairstyles 1930-1939 in Costume History
This page has over 100 images of hats and hairstyles. Each of these thumbnails will enlarge into an A4 page of images of hairstyles and hats for the individual years of 1930, 1931, 1932, 1933-34, 1935, 1936, 1937, 1938 and 1939.
The early1930's female silhouette was feminine. Although slender it had elegance and was not flat like the boyish lines of the 20s. Curves were back and these 1930's womanly curves were emphasised by the use of bias cut fabrics. Grooming of the face with now acceptable make up more artfully applied and pencil thin eyebrows together with a sleek upswept hairdo completed the thirties look.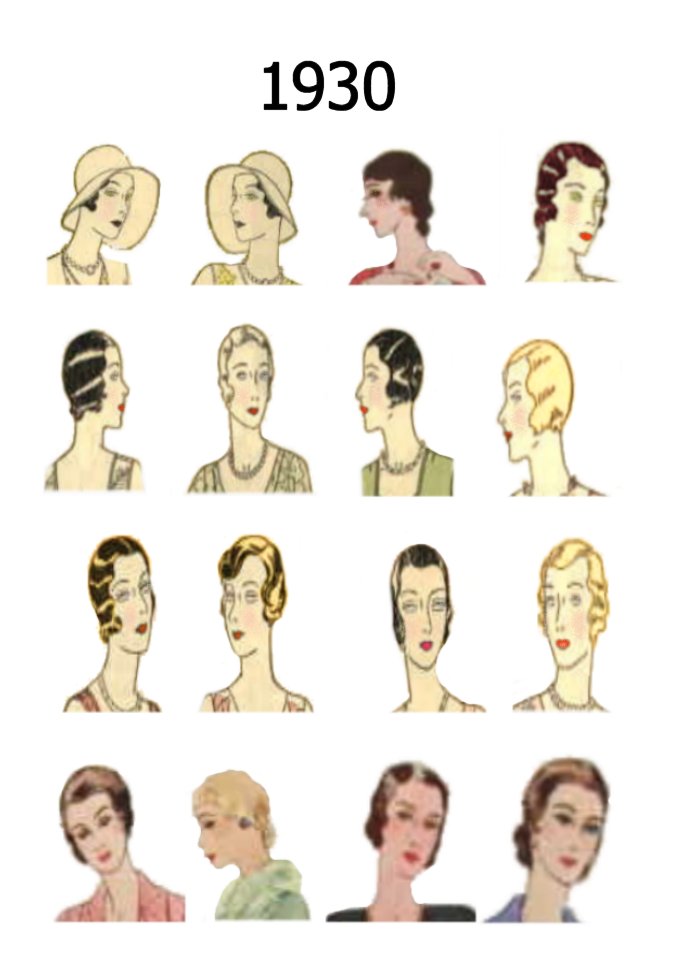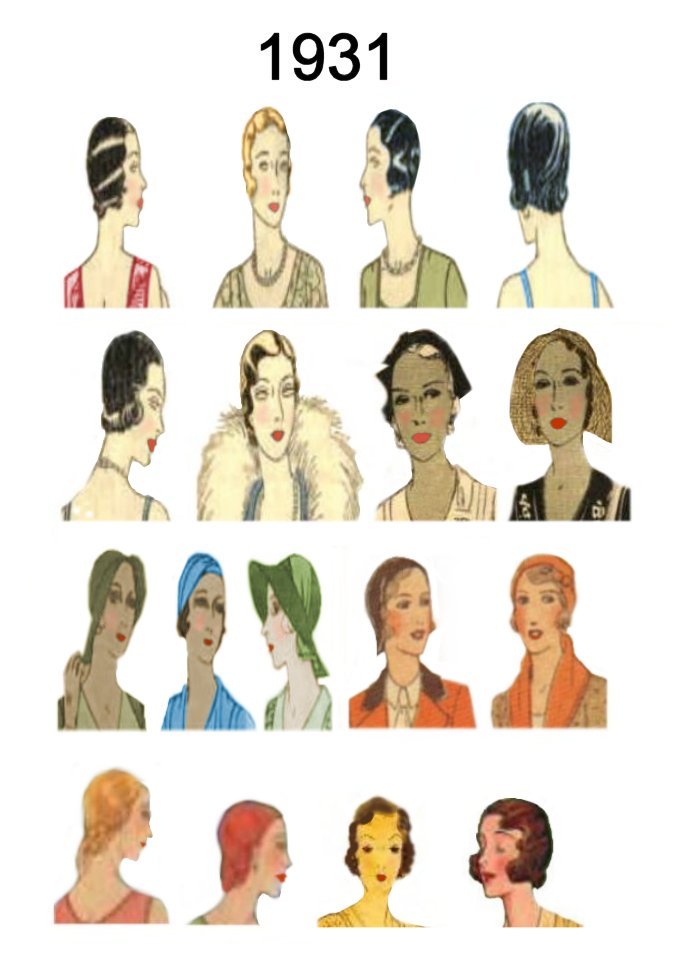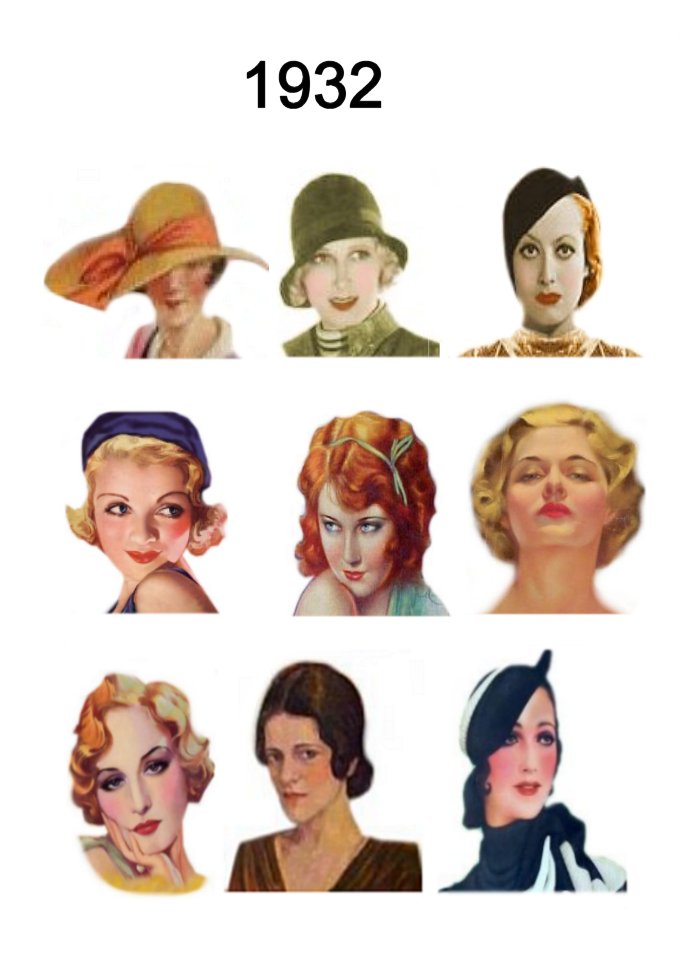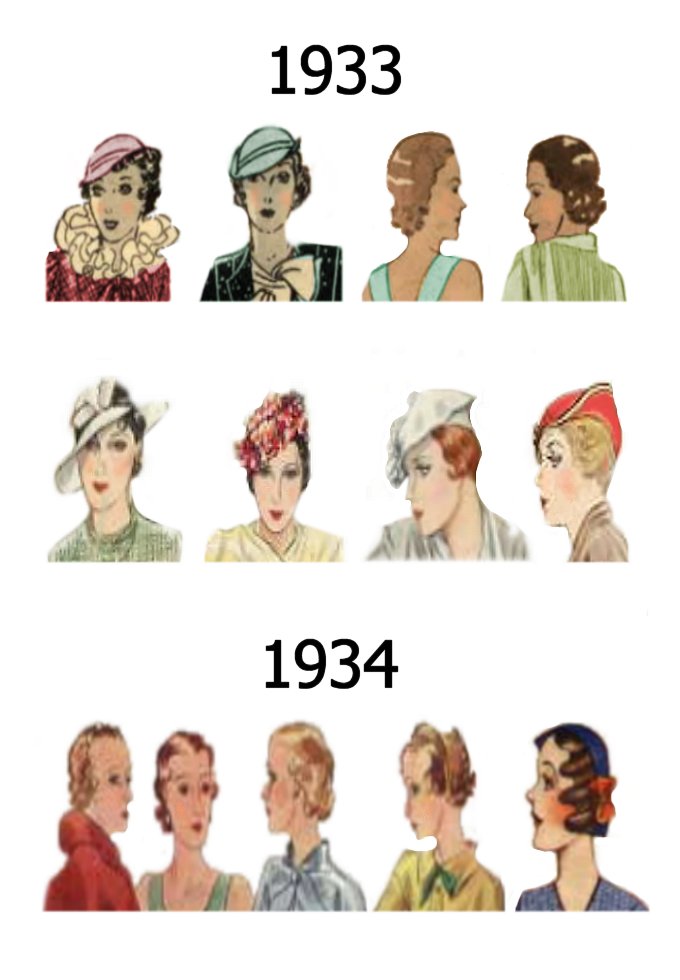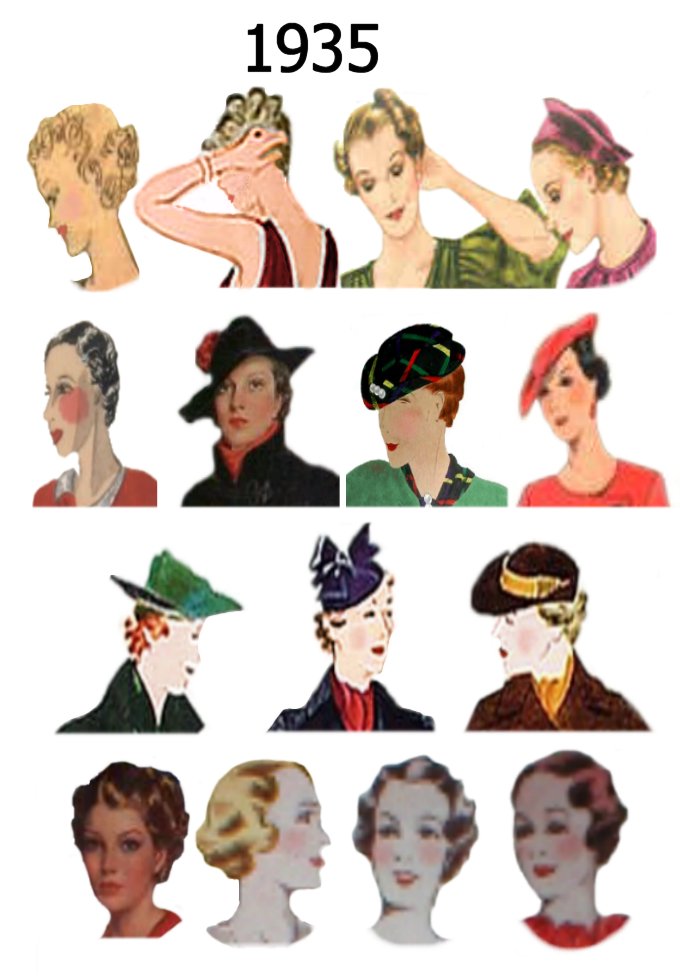 1930's millinery followed the mood of the day with curving styles often with romantic trims or witty hats that contrasted with the immaculately groomed look. Many 30's hats were worn tilted to one side. As brims became flatter and wider so crowns lowered and by 1933 there was the hat style that was almost like a pancake panama.
Later hats such as the tall toques of 1937 and 1938 were made even higher with extra feathers. On occasion they were decorated with velvet petals or a mass of roses, violets or pretty clusters of lilies of the valley.
One of the most useful styles to emerge was the cache-misère turban which enabled the wearer to bundle away the hair on a bad hair day, but appear immaculately groomed and elegant.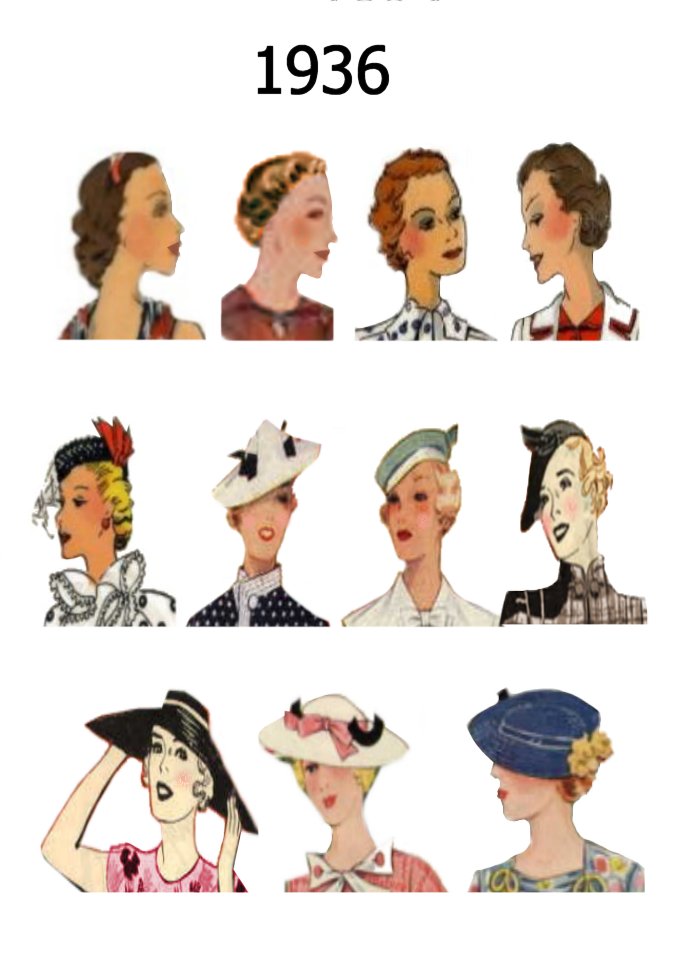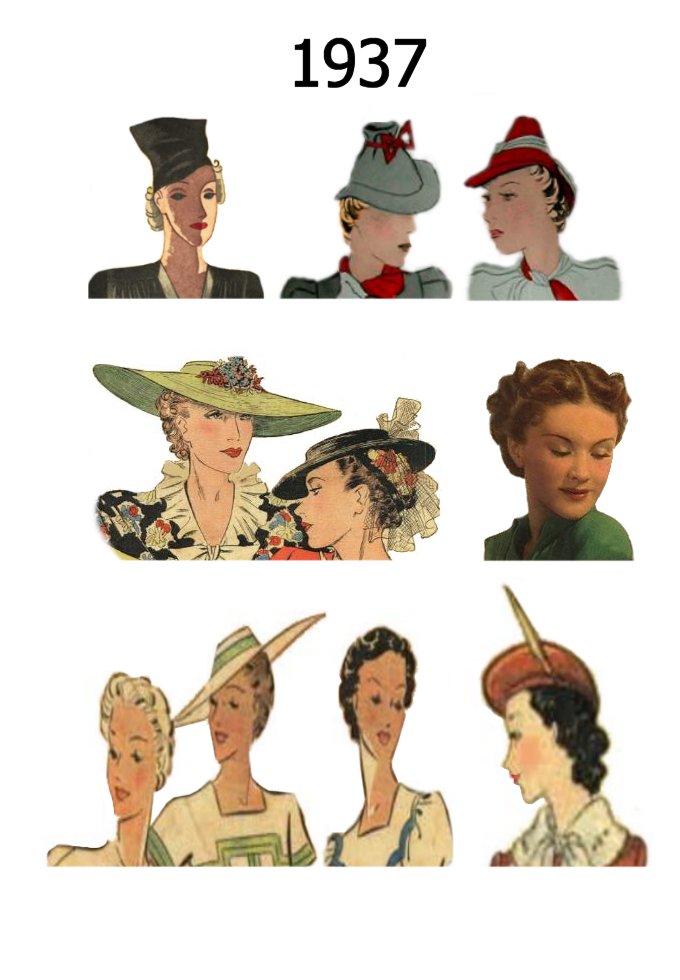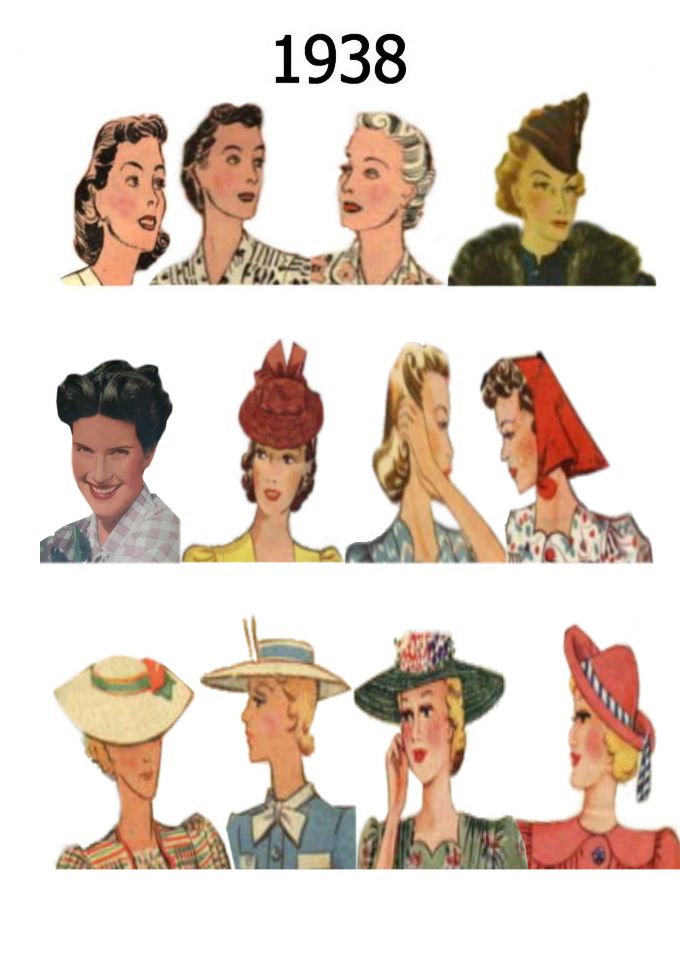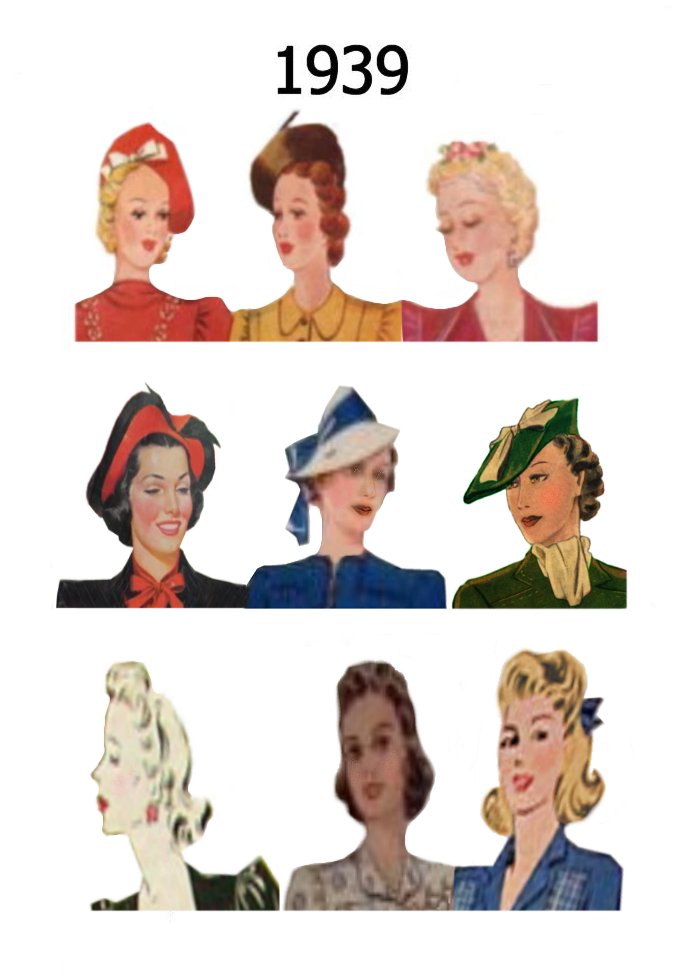 Greta Garbo
Greta Garbo's fashion style was imitated globally. In particular fans loved her shaded face make up known as the Garbo look. She often completed the enigmatic look with her famous slouch Fedora hat.
Other influential people included Parisian milliner Schiaparelli who loved to shock with her outrageous hat styles that echoed surrealism. She turned a shoe shape into hat styles and used pencils for hatpins. Some styles were amazing and echoed back to the days of Marie Antoinette and ships in hair. Schiaparelli's version was a bird cage hat with canaries inside or a crown that was in reality a vanity case or a pin cushion hat or chimney pot. She had fun designing hats and her most famous is the shoe hat and the hat in the shape of a lamb chop. These fashion pictures went around the world.
Through the 1930s Paris remained the centre of hat fashion design and many important fashion house employed as many as 300 employees who solely worked on millinery tasks. But the costliness of Parisian hats also saw the American market producing hats with panache and well suited to its home ground.
Lilly Daché who worked in 1930s New York built up her Daché hat emporium. She was famed for her snoods and her silk flower decorated cocktail hats for evening. Her turbans designs and profile hats that highlighted the face were all the rage.
As the thirties drew to a close and as war approached new hat styles took on a military air with peaked caps, bicorn and tricorne effects. Many hat styles exhibit these elements on the next pages.